Welcome to my online booking form
You are about to ask a project or book a flash with me
Let yourself be guided through the steps,
See ya,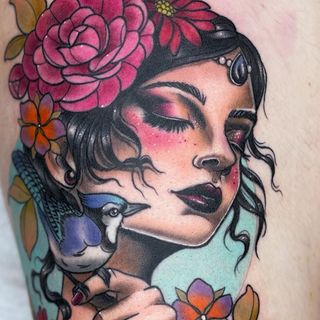 Renelle
Flash reservation
Please read and accept the terms :
English below

Français

Merci de remplir en détail la description de votre projet.

❁ Merci de joindre 3 photos de mes tatouages qui vous ont particulièrement plu et inspiré pour votre projet. Vous pouvez ajouter 2 références graphiques, artistiques de votre choix, en restant cohérent dans cette sélection.

❁ Je réalise uniquement des créations personnalisées et ne reproduis en aucun cas un dessin réalisé par un autre artiste, tatoueur. Je peux cependant reprendre un dessin que vous me fournirez avec l'accord écrit du créateur. Chaque pièce est dessinée par mes soins et tatouée une seule fois.

❁ Soyez le plus précis possible pour votre demande. Croquis et documents me permettront d'avoir une idée de votre projet pour ensuite valider ensemble le rendez vous. Il est possible que je refuse de réaliser votre projet car celui-ci ne correspond pas à mon style. Ou que je sois en manque de disponibilités.

❁ La description dans le formulaire détermine vos attentes et votre projet. Je dessine vos projets en fonction de ce que nous aurons convenu ensemble. Seules les informations envoyées dans le formulaire seront prises en compte.

❁ Pour bloquer une date de RDV tattoo et que je réalise le dessin de votre projet, il vous sera demandé de verser des arrhes. Le montant de des arrhes est toujours déduit de la dernière séance.

Je ne commence le dessin qu'une fois le rendez-vous du tatouage posé. Votre dessin sera unique, il me prend du temps à la réalisation, c'est pourquoi je ne vous le montre que un ou deux jours avant votre premier rendez-vous dans le meilleur des cas (samedi et dimanche compris), parfois avant s'il est fait plus tôt, parfois le jour J.

⚠️ Arrhes non remboursables. Report de rdv accepté une fois si prévenu 7 jours à l'avance.

English

Please fill in the description of your project in detail.

❁ Please attach 3 photos of my tattoos that you particularly liked and inspired for your project. You can add 2 graphic or artistic references of your choice, while remaining consistent in this selection.

❁ I realize only personnalized creations and won't reproduce the work of any other artist/tattoo artist. However I can take the drawing of another artist that hasn't already been tattoed with the writing consent of the artist. Every piece of art is drawn by me and tattoed only once. 

❁ Be as specific as possible with your request. Sketches and documents allow me to have an idea of ​​your project to validate the appointment together. It is possible that I refuse your project because it does not correspond to my style. Or that I don't have availability.

❁ The description in the survey determines your expectations and your project. I draw it in function of what we'll decide together. Only the informations sent in this survey will be taken into account. Thank you in advance for being sure of the tattoo, the placement....

❁ To confirm an appointment for the realization of your project, I will ask you a deposit. The price of this deposit is always deducted from the final sum. 

I begin the drawing after the take of the appointment. Your drawing will be unique, it takes time for me to produce. This is the reason why i'll send it to you one or two days before your appointment, in the better cases. (Saturday and sunday included.) Sometimes before if it's already done, and sometimes on the day of the appointment.

⚠️ Non-refundable deposit. Appointment report accepted once if notified 7 days in advance.
Switch language
fr